Apogon Maculatus or Fish cardinal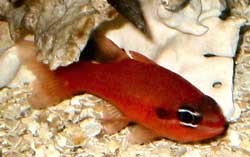 Latin name
Apogon Maculatus
Common name
Fish cardinal
Dimensions
Principle 15 cm.
Values of the water
Temp. 26/30 Densit 1018/1022 PH 8,4
Fish of the family of the Apogonidi, order of the Perciformi; coming from from the Mar of the Caribbeanses.

Fusiform body, lengthened, with large eyes, wide and carnosa mouth; livery of a beautiful shining red color, with an endured black spot GO BACK TO LIST the eyes, from which the common name, with the eyes it marks to you from two clear devout horizontal lines.

Of crepuscolari or nocturnal habits, with the timid and frightening light, for this reason much difficult one to acclimatize; once very acclimatized chip ax dept freeze food, dry artemie or chironomus and also in grains.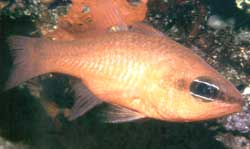 Gregario, pacific but slow fish, cohabits with small, calm fish and not the much fast in taking food well, adattissimo to the Aquarius with invertebrates.
It needs of one relatively small bathtub with many hiding places, water very filtered and aereata.

They are many advisable abundant partial changes of the water, with sifonatura of the bottom, you attend treatments with ozone, and regular additions of oligoelements and vitamins.
Dogs
Cats
MAMMALIAN SMALL
BIRDS
RESISTED THEM
AMPHIBIANS
FISH
moderated water
*$42$*
RED FISH
plants Aquarius
marine water
invertebrates
BOVINES
HORSES
SUINI
GOATS
SHEEP
RABBITS
HENS
DUCKS