Coris Gaimard Gaimard or Fish donzella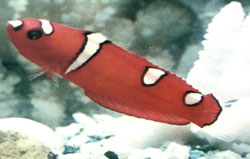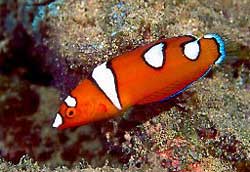 Latin name
Coris Gaimard Gaimard
Common name
Fish donzella
Dimensions
Principle 35 cm. In Aquarius 8/15 cm.
Values of the water
Temp. 26/30 Densit 1018/1022 PH 8,4
Fish pertaining to the family of the Labridi, coming from mostly from the archipelago Hindu-Australian, of it exists one subspecies C. G. African, coming from from the coasts of Africa and the Seychelles; much colorful and sturdy one, adapted to the cohabitation with fish of barrier of all the others breeds.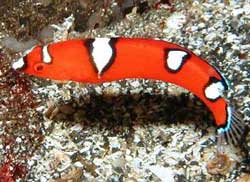 Body a lot flattened and lengthened nearly nastriforme, small mouth, in front position, the fins dorsal and anale extends on nearly all the body.
Like little other fish navy, introduce two liveries: a juvenile one, of color red ignited, with five spots white women of which it centers it them extends nearly until the ventre; that one of colored adult devout, color cream or green gold who become red and then going towards the yellow tail that, with a blue or green threading on the head and a multitude of blue dots metalizes to you on the final part of the body, absent in variet the C. G. African.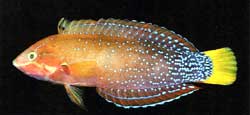 Once very acclimatized carnivorous, it preprefers mangime dry in grains or dept freeze, artemie you go up some, chironomus and also it freezes-dry to you.

It needs of a medium bathtub with many shelters and hiding places in how much it swims in the meandri of the madrepore, if scared one hides quickly under the sand.

Predilige a bathtub with water very filtered and aereata, absolutely lacking in knows them of branch to which sensitive.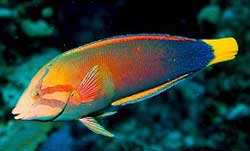 Resistant to the diseases it suffers for the excessive values from nitrates and phosphates, in the which case it loses the shining colors, are advisable partial changes with sifonatura of the bottom and regular additions of oligoelements and vitamins.

Not a lot adapted to the Aquarius with invertebrates in how much if it feeds some gladly.
Dogs
Cats
MAMMALIAN SMALL
BIRDS
*$45$*
AMPHIBIANS
FISH
moderated water
tropical water
RED FISH
plants Aquarius
marine water
invertebrates
BOVINES
HORSES
SUINI
GOATS
SHEEP
RABBITS
HENS
DUCKS