DENDROCHIRUS ZEBRA or Chinese Ombrellino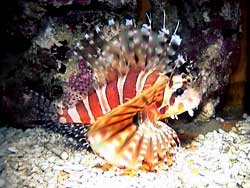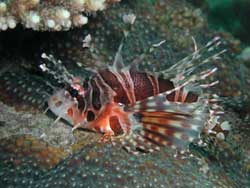 Latin name
Dendrochirus Zebra
Common name
Chinese Ombrellino
Dimensions
Principle 20 cm. in Aquarius until 15 cm.
Values of the water
Temp. 26/30 Densit 1018/1022 PH 8.4
Splendid representative of the family of the Scorpenidi, coming from from the oceans Indiano and Pacific; much colorful, but not sturdy how much its similari, relatively sociable, adapted to the cohabitation with nearly all the other fish of barrier, purch of large ransom, and with its similar.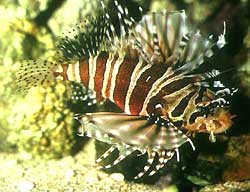 Relatively fusiform body, back inarcata, two long carnose escrescenze, many sfrangiate, over the eyes, and others to sides of the mouth; supported fins longest beams, distinguished uni from the others the those of first part dorsal fin, the fins chest straps form nearly a perfect circle, variously colorful, similar to a ombrellino Chinese, from which the common name of the fish; colorful livery and striking, body and fins rossastri, with designed to many vertical lines white women.

Much difficult one to acclimatize, once very acclimatized eats voracemente but nearly exclusively pesciolini it deeps freeze to you.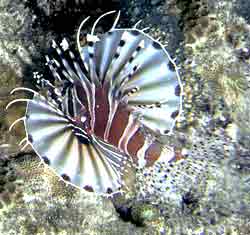 It does not need of a particularly large bathtub, in how much it swims least, gladly preferring to stretch its ambushes on the bottom of the Aquarius or near one madrepora.

Relatively little resistant to the diseases, it suffers for the excessive values from nitrates and phosphates, in the which case it begins to lose brandelli skin and mucus; they are therefore advisable frequent and abundant partial changes with sifonatura of the bottom, treatments with ozone and regular additions of oligoelements and vitamins.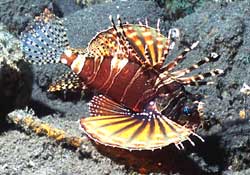 Not adapted to the Aquarius with fish of small ransom or invertebrates in how much if it feeds some gladly.

Like all scorpenidi also the D. Zebra has the thorns hollow ridges that rest directly on of the velenose vescicole, advisable not handling it and carrying out with caution the maintenance of the bathtub.
Dogs
Cats
MAMMALIAN SMALL
BIRDS
RESISTED THEM
*$41$*
FISH
moderated water
tropical water
RED FISH
plants Aquarius
marine water
invertebrates
BOVINES
HORSES
SUINI
GOATS
SHEEP
RABBITS
HENS
DUCKS