Cloudy Echidna or and. Variegata or stellata Murena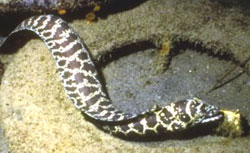 Latin name
Cloudy Echidna or and. Variegata
Common name
Stellata Murena
Dimensions
Principle 70 cm. Also in Aquarius it grows very
Values of the water
Temp. 26/30 Densit 1018/1022 PH 8.4
Characteristic fish pertaining to the family of the Murenidi, coming from from the Red Mar and all Pacific ocean; colored and relatively sociable, pu to inhabit a bathtub of comunit purch not there are particularly small or invertebrate fish.

Body from the typical shape of the family, extremely lengthened, nastriforme, dorsal fin that extends without solution of continuit from the head until to the tail fin, fins chest straps absent; wide mouth, armed with sharp teeth, on snout two fossette sormontate from small you hang to us carnose.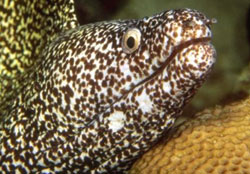 Black livery with puntinature white women, arranged on bands vertical, similar to a stellato sky; front part with yellow glares.

Much initially difficult one to acclimatize, pu to be without to eat entire weeks, but once accustomed chip ax voracemente mangime dept freeze, pesciolini above all, avvicinatogli to the mouth, preferibilmente with one appropriate clamp, in way to avoid painful bites.

Fish of crepuscolari and nocturnal habits, in Aquarius prefers to remain to the shelter of the acclimatization, solo with the time begins to move also with the light.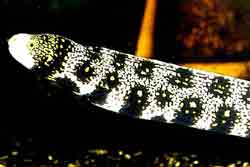 Little sensitive to the chemical and physical values of the water of the Aquarius; eventual partial changes with sifonature of the bottom are advised however.

In Aquarius it grows very and frequently it tries to exit from the bathtub.

Absolutely not adapted to one bathtub with invertebrates.
Dogs
Cats
MAMMALIAN SMALL
BIRDS
RESISTED THEM
AMPHIBIANS
*$45$*
moderated water
tropical water
RED FISH
plants Aquarius
marine water
invertebrates
BOVINES
HORSES
SUINI
GOATS
SHEEP
RABBITS
HENS
DUCKS