Melichthys Vidua or Fish crossbow with the red tail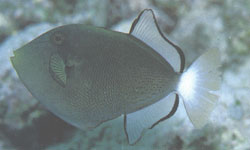 Latin name
Melichthys Vidua
Common name
Fish crossbow with the red tail
Dimensions
Principle 40 cm. In small Aquarius devout
Values of the water
Temp. 26/30 Densit 1018/1022 PH 8.4
Beautiful fish, pertaining to the family of the Balistidi, coming from from the Pacific ocean; sturdy, calm, adapted to the cohabitation with nearly all the fish of barrier of the others breeds.

Sturdy body, of romboidale shape, sturdy mouth in position advanced, armed with large teeth; black, leggermente striped livery of dorsal and anale green, fins transparent white women or, with the black edge; fins chest straps verdastre, the colored tail fin of red but only in the male.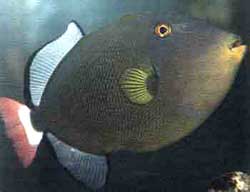 As all the Balistidi introduces a particular mechanism of defense: while the first thorn of the dorsal fin erge, the second one flette towards ahead the incastrandovisi in an appropriate heel and maintaining it saldamente in position, finquando do not stop the stimulus that has put infunzione the mechanism.

Easy to acclimatize carnivore, it preprefers mangime dept freeze, artemie, chironomus, gamberetti or cozze but also dry in large grains, frozen-dry or the appropriate sfoglie of alghe frozen-dry.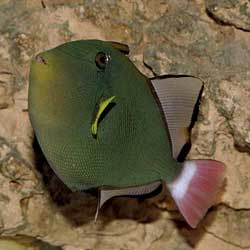 It needs of a large bathtub, in how much a great swimmer and searches carefully continuously all the Aquarius to the search of eating; it needs very of filtered and aereata water.

Much resistant one to the diseases, demands alone partial changes with sifonatura of the bottom, treatments with ozone and regular oligoelement additions and bioelementi.


Absolutely not adapted to the Aquarius with invertebrates in how much if it feeds some very gladly, breaking off the shells of the molluschi and, quite, the madrepore with its sturdy teeth.

Like in all the tetraodontidi, its meats are velenosissime but us not absolutely a problem in Aquarius.
Dogs
Cats
MAMMALIAN SMALL
BIRDS
*$42$*
AMPHIBIANS
FISH
moderated water
tropical water
RED FISH
plants Aquarius
marine water
invertebrates
BOVINES
HORSES
SUINI
GOATS
SHEEP
RABBITS
HENS
DUCKS