Pseudotropheus zebra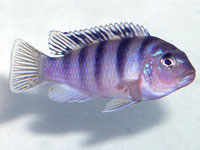 Family:
Ciclidi
Origin: Lago Malawi [ Africa ]
Typical exponent of the dellAfrica ittica fauna orients them, this ciclide loves to park between the full of rocks rivers of indicated the Malawi lago and therefore for preparations that they reproduce the biotopo of belongings.
The realization of the bathtub dovr to preview numerous rich full of rocks gorge formations where the fish can shelter themselves during the reproduction.
The Pseudotropheus is incubatori oral: the females brood eggs in mouth until when the small avannotti are not self-sufficient.
Particular attention must be placed in the phase that precedes the connections perch during lincubazione of eggs and in the first days succeeded you to schiusa the females they are not fed.
Alimentary necessary Sar therefore in substantial way these fish in the days that precede laccoppiamento.
Other element that must be held in consideration the composition dellacqua that it must rather be hard and alkaline: kh 10/15, ph 8/8.5; temperature 24/26.
The filtering must be powerful with one remarkable superficial current.
A sure care must be placed to the number of the exemplary to accommodate in relation to the capacit dellacquario.
All the Pseudotropheus and the zebra in particular are particularly aggressive with own the similar ones having one detached territorialit.
And profit not to sovradimensionare the population introducing three or four females for every male.
Lacquario dovr to have one capacit minimal of 150 liters.
The dimorfismo is evidenced in phase of advanced increase with the characteristic spots to egg in the anale fin of the male.
From young people all the zebra generally have the same blue coloration that dumb from adults (the females are nearly always yellow or color apricot).
Much beautiful and with analogous necessit the Pseudotropheus lombardoi and socolofi.
They are however fish fascinating and rather easy to raise also for the principiante.
we thank the situated one www.acquariofacile.it for the realization of this card
Dogs
*$39$*
MAMMALIAN SMALL
BIRDS
RESISTED THEM
AMPHIBIANS
FISH
moderated water
tropical water
RED FISH
plants Aquarius
marine water
invertebrates
BOVINES
HORSES
SUINI
GOATS
SHEEP
RABBITS
HENS
DUCKS